Mrityunjaya Fire Rituals
Mrityunjaya Fire Rituals - Wealth, knowledge and strength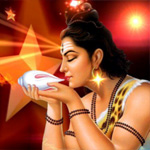 Mruthyunjaya Homam is dedicated to Lord Shiva to avoid untimely death. Lord Shiva, the chief deity of the homam, to achieve victory over your death, immunize your health ailments, avoid untimely demises and improve your spiritual growth. Mrityunjaya is another name of the mighty Lord Shiva. Mrityu literally means death, and Jaya is victory. Mrityunjaya is the one who has victory over death. Lord Shiva is called as Mrityunjaya because of His limitless power to conquer death.
Markandeya, a devotee of Lord Shiva, was destined to die at an early age of sixteen. As he constantly invoked the blessings of Lord Shiva through Maha Mrityunjaya mantra, Markandeya was saved from his destined time of death and was endowed with eternal life. Mrityunjaya Homam is an effectual technique to appease Lord Shiva as Mritunjaya and win His abundant mercy and grace to overcome death. The most prominent offerings made while conducting Mrityunjaya Homam are Durva grass, sesame seeds, amrita herb, etc., which have high medicinal properties. So performing Mrityunjaya Homam relieves you from your health ailments and rejuvenates your body, mind and soul. This life-giver-homam is specially recommended for people suffering from terminal illness, accidents and other life threatening diseases as it improves their longevity and restores health. For aged-people in their death bed, Mrityunjaya Homam offers the possibility of extending their life time.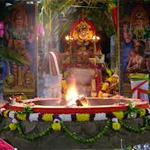 Mrityunjaya Homam is performed by chanting the Maha Mrityunjaya (The Great Death Destroyer) mantra as described in the Rig Veda. This ancient mantra has the power to invoke three different aspects of Shiva: Rudra, Tryambaka and Mrityunjaya. Therefore, Mrityunjaya Homam serves as a life giver, health enhancer, energy booster and life protector. Mrityunjaya Homam is performed by chanting Maha Mrituynjaya Mantra, which creates divinely potent vibrations that secure you from all negative forces and danger and act as a protective shield. So, those who are likely to encounter untimely death due Graha Doshas (ill effects of certain planet combinations in your natal chart) or accidents, fatal diseases, etc., can immensely benefit from Mrityunjaya Homam as it destroys the root causes of such unfortunate happenings. Also, to overcome the fear of enemies and eliminate their ill-doings, Mrityunjaya Homam can be performed.
It is performed for longevity.
It is performed on birthdays.
It is also done for extending life time.
It is performed for cure for chronic illness and healthy life.
Mrityunjaya Homam can be conducted on any auspicious hours or as recommended by the preist. For pleasing Lord Shiva as Mrityunjaya and receive all His blessings and grants We Nadi Astro online would help you in performing Mrityunjaya Homam.
This Fire Rituals will be performed at Authorized Temple Only. You can attend this homan directly at temple upon our confirmation and receive the energy and blessing directly from Almighty.
If Fire Rituals is performed as Proxy then You will receive the prasad and CD for the ordered fire rituals.