Lakshmi Narayana Fire Rituals
Lakshmi Narayana Fire Rituals - Wealth, prosperity and spiritual well being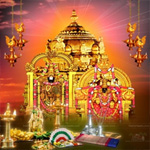 Lakshmi Narayan homa is performed for prosperity, material abundance, goodluck, harmony and spiritual prosperity. To remove troubles that prevent us from starting a spiritual path or business. Laxmi is the goddess of wealth and the consort of lord Vishnu. Lakshmi is the Hindu Goddess who governs all form of wealth and success and the paths, means and results of all forms of prosperity. As the Consort of Lord Vishnu, who is the god of preservation, Lakshmi Devi is the goddess of wealth and beauty. Sri Lakshmi embodies sublime beauty, siddhi, peace, strength, balance, auspiciousness, opulence and wisdom. Laxmi Narayana Homam refer to special kind addressing to Laxmi (goddess of wealth) and to Narayana (god of prosperity) together.
Whether you seek wealth, prosperity and success in material life or health, happiness and progress in spiritual life, Lakshmi Narayana Homam, a highly beneficial and effective Vedic ritual, is a powerful boon to realise all the desired goals of your life.
Lakshmi Narayana is the married form of Lord Narayana and Godess Lakshmi devi. Lord Narayana also known as Maha Vishnu is the preserver of the Universe and the embodiment of Dharma or righteousness. Lakshmi Devi is the embodiment of wealth and prosperity.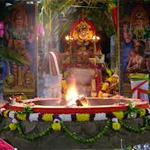 Lakshmi Narayana Homam invokes the blessings and grace of both Lord Narayana and Lakshmi Devi. This is an invincible combination because Lord Narayana acts as the protector of righteousness and vanquisher of evil deeds whereas Lakshmi Devi offers material growth and prosperity. Together, they endow both material as well as spiritual progress and well being throughout your life.
If you are going through a difficult time financially, heavily in debt or not able to accumulate wealth, Lakshmi Narayana Homam will help you overcome all your financial difficulties and will bestow wealth in abundance. Lakshmi Narayana Homam ensures financial stability and material progress, thereby makes you lead a peaceful and joyful life. To enjoy the benefits of wealth and prosperity, you must definitely have a healthy body, mind and soul. This too is achieved by performing Lakshmi Narayana Homam as it improves your health and well being since Lord Narayana is the caretaker of overall wellness.
When Lakshmi Narayana Homam is performed, Lord Narayana takes the role of a father and Lakshmi Devi plays the role of a mother so that the child (that is, you!) is well endowed with all the necessities for both material and spiritual success whether you seek it or not.
Just like your parents take care of all your needs irrespective of your knowledge, Lord Narayana and Mother Lakshmi take care of all your present and future needs(in this life and afterlife too) by abundantly bestowing you with financial growth, spiritual progress and unlimited happiness. This is the speciality and greatness of Lakshmi Narayana Homam, which enriches and enhances all the aspects of your life.
Pournami or full moon day is strongly recommended to perform the most merciful Lashmi Narayana homam that begets wealth, prosperity and spiritual well being. Performing Lakshmi Narayana Homam once in every year will help you achieve all the goals of life. The worshipers are blessed with peace, prosperity, success and fortune.
We Nadi Astro online would help you perform Lakshmi Narayana Homam and achieve the maximum benefits of this fire rituals.
This Fire Rituals will be performed at Authorized Temple Only. You can attend this homan directly at temple upon our confirmation and receive the energy and blessing directly from Almighty.
If Fire Rituals is performed as Proxy then You will receive the prasad and CD for the ordered fire rituals.