Kalabhairava Fire Rituals
Kalabhairava Fire Rituals - Control time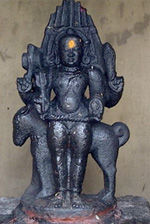 Lord kala Bhairava is a manifestation of Lord Shiva. Kala Bhairava is the God of Time - Kal means 'time' and 'Bhairava' the manifestation of Shiva. The vahana (vehicle) of Lord Kaala Bhairava is the dog. Feeding and taking care of dogs is another way of showing our devotion to Lord Kaala Bhairava. There are eight types of Bhairavas and they are called ashta Bhairavas. They are Asithanga Bhairavar, Ruru Bhairavar, Chanda Bhairavar, Krodha Bhairavar, Unmatta Bhairavar, Kapala Bhairavar, Bhishana Bhairavar and Samhara Bhairavar. Apart from these eight forms there is yet another form called Swarna akarshana Bahiravar. Maha Bhairavar is said to be Shiva himself.
Kala Bhairava also called the keeper of time is the lord who controls the time and incidents that take place in the human's life. The divine Kala Bhairava stands for Kala-the time period and Bhairava, the keeper of time. Time and tide wait for none goes the saying. Controlling time and maintain punctuality is a lacking birth quality for many. Kala Bhairava blesses you with the power of controlling the factor called time and incidents that take place in your life.
Kaal Bhairava is the God of time. Kaal Bhairava is male Yang energy and his female energy is kali. Whole secret of cosmos is related to Shiva and Shakti.
Bhairav - The Lord of Yogis
Lord Bhairav is worshipped by Yogis and Tantriks to gain Siddhis. Bhairon is regarded as the guardian of Yogis and Tantriks who attain accomplishment of Mantras by doing Sadhana (devotion).
Bhairav - The Kotwal
Lord Bhairav guards the temple of Lord Shiva and due to this fact, he is also known as "kotwal" (Guard).
Bhairab - The Worship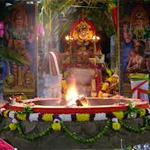 Worship of Lord Bhairon is very useful to win over your enemies, success and all materialistic comforts. It is very easy to please lord Bhairav by doing normal worship daily. Coconut, Flowers, Sindoor, Mustard oil, black til etc are offered to the God and the following mantra is chanted with devotion to get God's Blessings.
You will attain the sheer power to control the time and the incidents that take place in your life with the blessings of Kala Bhairava. He blesses you with the divine power of predicting things that are to happen and to avoid mishaps by controlling time!
We Nadi Astro online would help you perform Kala bhairava Homam and ease to invoke these powerful radiations of Kala Bhairava who can control the time and incidents of your life!
This Fire Rituals will be performed at Authorized Temple Only. You can attend this homan directly at temple upon our confirmation and receive the energy and blessing directly from Almighty.
If Fire Rituals is performed as Proxy then You will receive the prasad and CD for the ordered fire rituals.