Ganapathi Fire Rituals
Ganapathi Fire Rituals - Eradicating obstacles and ensuring success in all your endeavors!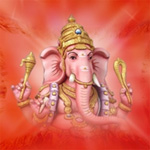 Ganapathi homam is performed to beget happiness, prosperity and good health. Anyone is desirous of praying to God to remove any obstacles in any of his plan/ work/Business/action and also to be victorious in his deeds can pray to Lord Ganesha. Ganapathi homam can be performed to please Kethu and hence anyone who has Kethu dasa or bhukthi or wishes to appease Kethu can participate in the homam. Performing Ganapathy Homam once every year gives prosperity, health and wealth. Especially in Kerala &Tamilnadu People Starts All Rituals By Performing Ganapathi Homam. As per ganesh puran plenty types of ganapathi homam can be done example: Mahaganapathi Homam, Asthadravya Ganapathi Homam, Sahasra modaka Ganapathi Homam, etc…
Before undertaking any endeavour if Lord Ganesha is worshipped and invoked with devotion and love, He helps you achieve the desired results without encountering any obstacles. This is the reason why Lord Ganesha is also known as Vigneshwara: Vigna means obstalcles, Eshwara means Lord. Therefore, Vigneshwara is the Lord who removes all the obstacles. If you face problems due to Ketu Dhasa or Bukthi, which usually happens for seven years, you can perform Maha Ganapathi Homam to nullify its ill-effects.
According to Yoga Shasthras, Ganapathi is considered to be residing in the first chakra, known as Mooladhara, which is the base for all other six chakras in the human body. So performing Maha Ganapathi Homam will serve as a foundation for both your spiritual as well as material growth.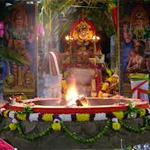 Ganapathi Homam also bestows prosperity, health and well being when performed every year. For leading a life full of happiness and success, Maha Ganapathi Homam can be performed during marriages, house-warming ceremonies, and even on your birthdays.This Homam is highly rewarding when performed on Sankata Hara Chathurthi day, which is considered to be the most auspicious day for worshipping Lord Ganesha.
Ganapathi Homam ensures that the pursuit you undertake is successful and rewarding. As Lord Ganesha is considered to be the Lord of all beginnings, Maha Ganapathi Homam is performed even at the beginning of Homams dedicated to other deities. This fire rituals should be performed in the early morning and Poornahuthi to be offered during sunrise, unless any other time is specifically mentioned to suit the particular purpose. He is worshipped for siddhi, success in undertakings, and buddhi, intelligence.
We Nadi Astro online would help you perform Ganapathi Homam and to reap all the benefits of the immensely powerful of this Ganapathi.
This Fire Rituals will be performed at Authorized Temple Only. You can attend this homan directly at temple upon our confirmation and receive the energy and blessing directly from Almighty.
If Fire Rituals is performed as Proxy then You will receive the prasad and CD for the ordered fire rituals.