Durga Fire Rituals
Durga Fire Rituals - Bid goodbye to the evil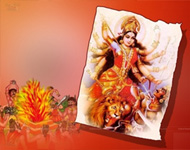 Goddess Durga is considered to be the combined force of all the Gods to destroy the evil forces. Goddess Durga in Sanskrit means a fortified or well protected place. Goddess Durga protects the mankind from the evil forces. She removes the negative thoughts such as selfishness, envy, hatred anger and ego. The shrine for Goddess Durga is near the Northern entrance of the temple. Goddess Durga, the idols of Swarnaganapthy, Shanmuga and Bhairavar were also shifted to this temple from the fort. Goddess Durga is considered to be very divine and powerful who showers Her blessings on Her devotees.
Goddess Durga, the most powerful Goddess is the evil destructor! Whatever is ill in your life-health, enemies or ill luck, she can fade away all your problems at once and for all. Ask the blessings of Goddess Durga to stay away from the hassles of your life.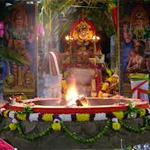 People afflicted with Rahu and Kethu Doshas worship at this temple during Rahu Kalam; for, it is believed that during the Rahu Kalam, Rahu worships the Goddess everyday. Worshipping Her on Tuesdays, Fridays, Sundays, New Moon days and Full Moon days and Ashtami and Navami (8th and 9th day from the new moon or full moon day) is considered special. Worship of Goddess Durga is considered very important in Kaliyuga. The worship of Goddess Durga removes the effect of all types of black magic, unfavorable effect of negative planets, Bad luck, health problems, problems due to enemies etc. She can solve problems and is the favorite and most dependable God to the women folk. She blesses women with the power to stand against evil in their way and also blesses the childless with the gift of children.
You can attain the blessings of this powerful Goddess who can bid farewell to your problems and hassles and make you live an obstacle life. Ask for anything positive against the negative and she will be with you on calling her with heart and soul.
Nadi Astro Online would assist you in performing the homa (fire rituals) and ease to invoke these powerful radiations of Goddess Durga to rule your life without any obstacle on your way!
This Fire Rituals will be performed at Authorized Temple Only. You can attend this homan directly at temple upon our confirmation and receive the energy and blessing directly from Almighty.
If Fire Rituals is performed as Proxy then You will receive the prasad and CD for the ordered fire rituals.