Dana Akarshana Fire Rituals
Dana Akarshana Fire Rituals - Attract everything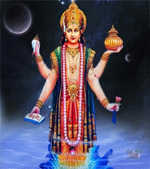 Dhanakarshana Bhairava Fire Rituals is also called Swarnakarshana Bhairava Homa. Dhanakarshana Bhairava Homa is the homa performed to earn the grace of Sri Swarnakarshana Bhairava.
Swarnakarshana Bhairava is a form of Lord Shiva. "Dhana" means wealth. "Swarna" means gold. "Akarshana" means attracting. Swarnakarshana Bhairava bestows on us all the wealth and richness. He makes all our wishes related to wealth get fulfilled.
Swarnakarshana Bhairava Tantra depicts Him to be seated under the wish-fulfilling Kalpavriksha on a gem-studded golden throne in Sripuram - the city of Devi Maha Tripurasundari. Mahalakshmi is stationed there to serve Him. The Swarnakarshana Bhairava Tantra says that once due to the curse of the sage Durvasa, Mahalakshmi lost Her powers. Then Mahalakshmi had to worship Swarnakarshana Bhairava to regain Her powers.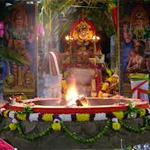 Dhana Akarshana Homam brings wealth, material comforts and prosperity in the life of the users. Goddess Lakshmi, consort of Lord Vishnu blesses her devotees with riches and luxuries. She is considered as the lucky Goddess that brings in opportunities to multi-fold the comforts and gains in one's life. This Dhana Akarshana Laxmi Kubera yantra is energized with her power, which helps to unveils the luck in store for the users.
He is also the "Aapadudharana murti" - the uplifting hand in times of crisis. He averts all kinds of dangers. The one who worships Swarnakarshana Bhairava literally gets everything. He gets all the wealth and richness in his life and also is constantly protected from all the perils in his life. Above all just because Swarnakarshana Bhairava is the one of the Bhairavas - the terrifying ones - liberates us from all the patterns and karmas and liberates us from the whole cycle of birth and death.
The Dhana Akarshan a Homa - Laxmi Kubera fire rituals. It surely bestows Dhana Akarshana with Bhairava's grace, blesses one with immense wealth, happiness, and Laxmi kataksha. It removes all kind of dangers and blesses one with abundance. A must for all those seeking urgent financial help and assistance.
Is your business and self entrepreneurship looking for new ideas and a fresh lease of life?
Do you wish to increase the inflow of income
Do you yearn for material comforts
Are you looking for all the luxuries that are due to you?
Participate with us in the Dana Akarshana - Lakshmi Kubera homam and receive the blessings of Goddess Lakshmi and Kubera. Along with your outer world efforts to make money offering Dhanakarshana bhairava fire Lab, not only makes you successful in your efforts but also makes you fulfilled in life which is ultimately the living Enlightenment.
This Fire Rituals will be performed at Authorized Temple Only. You can attend this homan directly at temple upon our confirmation and receive the energy and blessing directly from Almighty.
If Fire Rituals is performed as Proxy then You will receive the prasad and CD for the ordered fire rituals.