Chandra (Moon) Fire Rituals
Chandra (Moon) Fire Rituals - Master your Emotions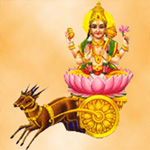 Lord Moon is a Sattvic or spiritual planet. As a very sensitive and mutable planet, the Moon can be easily influenced and overcome by other planetary energies.
Your emotional swings might be a major downfall in your life. Your Moon takes charge over your emotional balance. A lump in your emotional life attributes to the weaker placement of Moon in your Birth Chart. The Moon God or Chandra is the solvent who can dissolve those lumps of your life!
Chandra (moon) is also known as Soma and identified with the Vedic Lunar deity Soma. He is described as young, beautiful, fair; two-armed and having in his hands a club and a lotus. He rides his chariot (the moon) across the sky every night, pulled by ten white horses or an antelope. He is connected with dew, and as such, is one of the gods of fertility. He is also called Nishadipati (Nisha=night; Adipathi=Lord) and Kshuparaka (one who illuminates the night). He as Soma, presides over Somvarm or Monday. He is of Sattva Guna and represents the Mind, the Queen or Mother.He is married to daughters of Daksha Prajapathi. He has therefore 27 wives, representing twenty seven Nakshatras (constellations). Budha (the planet Mercury) was born to Soma and Taraka.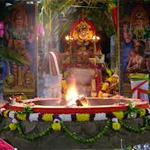 The Moon is the vibration who is associated with romance, love, sentiment, motherhood. A weakly placed Moon leads to problems related to body fluids, mental and emotional problems such as frequent depressions and over-sensitivity. Moon God or Chandra is the nearest cosmic neighbor to the planet earth and wields is existence on almost every human being! You have to learn the Vedic methods to get closer to your cosmic neighbor and the only divine way of approaching him is through energetic Homam(fire Lab) flames! When you are emotionally drained out, you run out of confidence and courage to face even the slightest of change in your life. When you communicate your emotions to the Lord Chandra, he will soothe you with his blessings and add the element of peace to your life.
We Nadi Astro online would help you in performing chandra (Moon) Homam and ease to invoke these powerful radiations of the Moon into you and give you the best to balance your emotions with expertise!
This Fire Rituals will be performed at Authorized Temple Only. You can attend this human (fire Rituals) directly at temple upon our confirmation and receive the energy and blessing directly from Almighty.
If Fire Rituals is performed as Proxy then You will receive the prasad and CD for the ordered fire rituals.