Brihaspati(Jupiter) Fire Rituals
Brihaspati (Jupiter) Fire Rituals - Knowledge and wisdom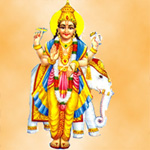 Brihaspati is the name of a Vedic deity, personification of piety and religion, the chief offerer of prayers and sacrifices, represented as the Purohita of the gods with whom he intercedes for men. He is the Lord of planet Jupiter. He is of Sattva Guna and represents knowledge and teaching. According to Hindu scriptures, he is the guru of the Devas and the arch-nemesis of Shukracharya, the guru of the Danavas. He is also known Guru, the god of wisdom and eloquence, to whom various works are ascribed, such as the "atheistic" Barhaspatya sutras. He gives religious merit and spiritual beneficence. He is described of yellow or golden color and holding a stick, a lotus and his beads. He presides over 'Guru-war' or Thursday.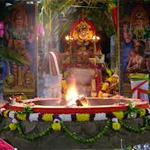 Lord Jupiter or Guru is the only divine planet which can nullify the afflictions of any other weakly placed planet in your Natal Chart. There is a Vedic saying that quotes that just the vision of Guru over his native will bring simply disaster all the troubles and bless the native with utmost peace. Guru or Lord Jupiter blesses you with a package of most essential happiness in life. A happy and peaceful life is indeed the foundation that every human yearns for. Undoubtedly you must also be one among the desiring group. Let the Lord Jupiter shower all his blessings over you to make your life just mind blowing! Call him the teacher, scholar or priest who blesses you with knowledge and power to even rule the world! Pleasurable life, utmost happiness, the luck to accomplish everything into your control etc are the gifts of the blessings showered to you by Jupiter. What more do you need for a successful life than this?
We Nadi Astro online would help you in performing Brihaspati (Jupiter) Homam and ease to invoke these powerful radiations of Guru to nullify all your afflictions and to make your Birth Chart as eminent as possible!
This Fire Rituals will be performed at Authorized Temple Only. You can attend this human (fire Rituals) directly at temple upon our confirmation and receive the energy and blessing directly from Almighty.
If Fire Rituals is performed as Proxy then You will receive the prasad and CD for the ordered fire rituals.