Taurus †Horoscope - 2015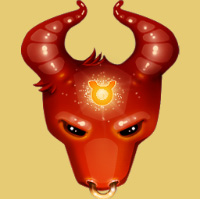 In the year 2013, Taurus natives will need to be very careful, almost walking on a tightrope, in order to keep things sorted. The year may, well, be full of challenges, especially on the social front. You will also be busy this year in money and family matters. This may need you to cut down on your networking efforts and even your social life. This, however, would be good in a way; you may use the time gained for self introspection. Those pursuing higher education stand to specially benefit now. Your relationship with your spouse's family shall improve. Besides, there shall be many other things keeping you busy.
Taurus Home and Domestic Life
You are a dominating person by your basic nature, and would like to be the supreme guiding force in all the decisions your family makes. However, with power come responsibilities too, and it is advisable to share this authority with someone equally forceful, so that you can distribute and delegate your responsibilities. This year, you will need to learn to cultivate appropriate managerial and multitasking skills fit for handling all kinds of family issues. Also, try and cultivate a softer, more personal approach in family matters.
Taurus Love Life
You shall have to be more accommodating and understanding in the relationship with your beloved so that you handle the situation correct giving them the benefit of doubt. This is going to be a difficult time for your relationship with your beloved, however being flexible may help. Those of you who are in recent relationships may want to stop and contemplate deeply before taking the next step. This may not go down well with your partner and in order to quell unnecessary doubts and panic you need to talk, communicate and aim to bring some clarity.
Taurus Health
Your physical health is going to be sound and robust in the year 2013. However, unfortunately, same cannot be said about your mental health. You may be stressed and depressed over some issues, which may put pressure on your overall health. Hence you should be careful about your diet and fitness regime. Taurus people should do everything they can to stay in perfect shape and maintain regular health check ups. Those already facing some health issues need to be extra careful. You may also suffer from internal mood swings.
Taurus Career and Finance
Financially, you look set to be on a safe track. However, if you are not careful with your investments, things may not be the same. Avoid taking any impulsive decisions, and ensure chalking out a sound financial plan. Going overboard with shopping and spending is obviously not a great idea. Progress in career is foreseen, though not without difficulties. Time for relocation would be favorable after August. Ones pursuing business may have to travel a lot in the last quarter of the year. In business, you may need to investments in advanced technology, but this would be beneficial in the long run.
Tips
Avoid being an open book especially in keeping the secrets of your life. A little bit of self analysis may help a lot. You should be more flexible in your relationships and being more understanding always helps.
Please note that the given predictions are meant to provide you a general, Sun-Sign based overview. You can also unravel the mysteries hidden in your Birth Horoscope, and get practical remedies to soothe your life, love, career, business and more with one of our very Special 2013 Reports.