Sri Mrityunjaya Yantra
Sri Mrityunjaya - Fear, tension, worries, accidents, disrepute etc.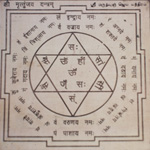 Sri Mrityunjaya is a yantra to free the fear of death, grave dangers, fatal diseases and makes him courageous and healthy. It is an outstanding yantra of great values, to be carried on silver or copper plate. The upasana of Mritunjay yantra is worship of Lord Mritunjaya. Mritunjay yantra dispels all sort of fears, influence of evil planets, fear of ghosts accidental death and disease etc. Mritunjay yantra particularly relieves one from all dreadful diseases. The person who perform puja to Mritunjay yantra , remains in good health and free from all ailments. Lord Mrityunjay Mahadev is the winner of death.
On worshiping Mrityunjay Mahadev one can escape from miseries and troubles of this materialistic world as well as the problems related to inner soul. He eats our troubles, tensions, stress as well as our ego. Lord Mrityunjay is the doctor of soul and sentiments. Mritunjay yantra is useful when Saturn, Mars is enjoined, in opposition or in aspect to each other in a birth chart or in transit to avoid any accident or accidental death. Mritunjay yantra is worshipped, also after pooja, the yantra be dipped in water and the water is to be drink as "Charnamrit" to control and cure diseases. The water sprinkled in the house creates amity comfort in home. The people who remain sick or are very prone to infections and diseases must worship sri Mrityunjaya yantra .
You can keep this yantra either in your house, office or altar place and do the pooja. . You have to chant this mantra for 21/108 times and with the energy of chanting you would be blessed with the positive energy of Sri Mrityunjaya Yantra.
Sri Mrityunjaya Yantra is as follows
"Tryamabakam Yajamahe Saugandhim Pushti vardhanam
Urvarukmiv Bandhanan mrityor mukhsheevamamritiyat"
How to use the Yantra in Altar?
Keep the Yantra on a Altar facing North or East, placing the center of the Yantra at the level of your eyes.
Wash the Yantra with rose, water or milk. water or milk. Wipe the yantra with clean cloth.
There will be change in color in excess of a period of time but energy of the yantra will not dissolve.
First apply sandalwood and then Kumkum on the edge of the yantra and also in middle. Do not forget to consecrate the fruits of this practice to God (karma yoga).
Then light a candle or ghee lamp and incense stick in front of the yantra in altar and do pooja. Chant the mantra as mentioned above in front of yantra.
Thus, Yantras not only avert disasters but also help in bringing good things to life. Yantras add value to one's life and do have mystical powers to heal certain issues which are not understood by most of the people.