Sri Krishna Yantra
Sri Krishna Yantra - Arts and Skills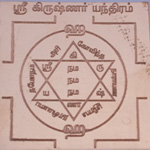 Sri Krishna Puja Yantra also enhances the decision making ability of a person. It makes a person more mentally stable and cool, calm and collected, as a result of which one doesn't get mush adversely affected even in the toughest and most adverse of situations. Thus Shri Krishna yantra shines the personality, enhances the speaking skills of the worshipper. One gets success in all endeavors by the blessings of this yantra. Shri Krishna yantra helps one to choose the right path stake right decisions in difficult situations and enhances attraction in the personality and helps to maintain positive energy. It increases self confidence of the worshipper. It improves arts and skills. This yantra plays a very important role in attaining victory.
A person also develops an aura of positive energy around him, which makes him feel like an optimistic even in the most unfavorable situations. Sri Krishna Yantra also fills and boosts up poise and a belief on oneself, and elevates the hidden arts, skills, and talent. With the help of self-confidence and great arts and skills, one is able to achieve victory in all aspects of life.
You can keep this yantra in business or altar place and do the pooja .You have to chant this mantra for 108 times and with the energy of chanting you would be blessed with the positive energy of Sri Krishna Yantra.
Sri Krishna Mantra is as follows
Om Krishnaya Namah or Om Krishnaya Sharanam Namah.
How Keep the Yantra on a Altar facing North or East, placing the center of the Yantra at the level of your eyes.
Wash the Yantra with rose, water or milk. water or milk. Wipe the yantra with clean cloth.
There will be change in color in excess of a period of time but energy of the yantra will not dissolve.
First apply sandalwood and then Kumkum on the edge of the yantra and also in middle. Do not forget to consecrate the fruits of this practice to God (karma yoga).
Then light a candle or ghee lamp and incense stick in front of the yantra in altar and do pooja. Chant the mantra as mentioned above in front of yantra.
Thus, Yantras not only avert disasters but also help in bringing good things to life. Yantras add value to one's life and do have mystical powers to heal certain issues which are not understood by most of the people.