DhanaAkarshana Yantra
Dhana Akarshana Yantra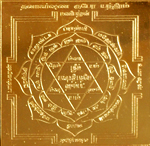 Fortune is an constituent of positivity that invites great accomplishment, happiness and prosperity into your life. The invigorating waft of luck brings about volumes of money, reassure and gains when you make it blow in your path—Dhanakarshana Yantra does it for you! This Yantra showers on you the blessings of Goddess Lakshmi, an embodiment of wealth and prosperity. She bestows upon you materialistic comforts and good luck.
How to use the Yantra in Altar?
Keep the Yantra on a Altar facing North or East, placing the center of the Yantra at the level of your eyes.
Wash the Yantra with rose water or milk and Wipe the yantra with clean cloth.
There will be change in color in excess of a period of time but energy of the yantra will not dissolve.
First apply sandalwood and then Kumkum on the edge of the yantra and in middle.
Do not forget to consecrate the fruits of this practice to God (karma yoga).
Then light a candle or ghee lamp and incense stick in front of the yantra in altar and do pooja.
Chant the mantra as mentioned above in front of yantra.
Thus, Yantras not only avert disasters but also help in bringing good things to life.
Yantras add value to one's life and do have mystical powers to heal certain issues which are not understood by most of the people.