Leo †Horoscope - 2015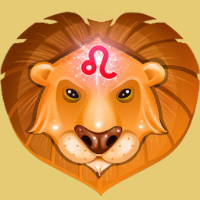 The year 2013 is going to be very interesting for Leo people. Both highs and lows may operate for you in the year. Domestic area may remain slightly disturbed. However, there will be good opportunities for earning. Plans for buying a house or a vehicle may get delayed. If you have been thinking of a career change, you may get bogged down by difficulties in the beginning. Your views about life and religion may be in for a major change. There may be sudden travel plans for you this year. Lack of fiscal support from your family may affect your financial status.
Leo Home and Domestic Life
Leo people may go in for house renovation this year. You will be highly concerned about your parents' health. Family members may give you support, but ultimately you will have to walk alone on the path of life. This year, you may spread positive thoughts in your home environment by meditating more or by praying for more hours. Also, restrictions which you are facing in your life may make you feel frustrated, but you have to maintain your confidence to deal with this situation.
Leo Love Life
Friendships can turn into love relationships that can give Leo people great moral support. You will be able to impress greatly the opposite sex however you should try to filter out infatuations and bring in only true love in your heart. Those already in a relationship may want to take their relationship to the next level. Married couples have a slightly challenging year ahead because of the disturbed domestic environment. Physical attraction between you and your partner will remain intact. Its a very good time to plan for kids.
Leo Health
You might end up ignoring your health for some months this year. For maintaining good vitality you should depend more on hot and less spicy food, fruits and milk. You should not take everything to your heart, remain calm and composed otherwise you might suffer from blood pressure related problems and most probably low blood pressure. Legs and teeth would also be two other sensitive areas. This is a good time to actually find cure to diseases that have been bothering Leo people since long. You should follow your doctor's advice to get rid of old and recurring diseases.
Leo Career and Finance
Changing your ventures or career path may seem inviting but you should instead try to fight it all with your immense will power. Also, you should not get into conflict with your superiors or authority figures. You may get more than two chances to change your career path or your job. However you will not get enough time to decide and hence you should take any decision keeping in view the long term perspective. On the business front, growth may seem slow. Avoid giving long term credit to your business associates for it may affect your finances adversely.
Tips
You should employ Full Suing, Reiki and other models to bring more positivity in your life. Events may unfold such that you may being to doubt God's blessings. However you should refrain from it. Try to go a little slow with life and keep that fighting spirit on.
Please note that the given predictions are meant to provide you a general, Sun-Sign based overview. You can also unravel the mysteries hidden in your Birth Horoscope, and get practical remedies to soothe your life, love, career, business and more with one of our very Special 2013 Reports.